¿Nuevo invento?
Aqui os pego el texto que he recibido a traves del Myspace de Soulfly, parece ser que les ha dado por vender hardware para bateras!!
New "Uni-Badge,," Batter Badge®
"Slug Percussion has introduced the very first vented impact pad that can be used on any drumhead for universal applications with drumsticks or foot pedal beaters. With input from Slug endorser Joe Nuñez, drummer for the band Soulfly, Slug Percussion Products has produced the "Uni-Badge", a new Batter Badge model which is designed to protect and enhance the sound of drumheads. The Uni-Badge will work on toms, snare, and bass drums. It also works with single or double foot pedals as well when used on a bass drumhead. It is made of clear .010" polycarbonate film and is 5.5" in diameter. It does not muffle the drum. The notched peripheral edge and slot venting of the Uni-Badge allow natural but controlled drumhead vibration, enhancing strike articulation and attack while gating excessive overtones and ring. This Badge design works extremely well for studio and live stage performances when sound control is a must. The Uni-Badge stays in place with high strength pressure sensitive adhesive and can be mounted above or below a drumhead. The Uni-Badge,, will be making it's debut at Winter NAMM 2007. Slug President, Eric Behrenfeld comments, "Joe Nuñez has been key in the development of this new Badge concept, which incorporates Slug's patented vented impact pad technology. Joe's playing on prototypes really helped determine realistic performance needs for the final design of this product. This Badge design is "Tour-Tested-Tough" by one of Metal's most prestigious drummers. It was a challenge creating a Batter Badge that could do everything Joe wanted, including glowing in the dark so he could keep some visual perspective on his drums during Soulfly's elaborate lighting and stage effects that happen throughout a show."
Slug Percussion brought to market the very first vented impact pad in 1995, and makes a variety of Batter Badges® for different drumhead applications. The new patented Uni-Badge is the first of its kind ever for universal drumhead applications. Nuñez also appears on the recent DRUM NATION 3 CD project. The Uni-Badge is now available from drum and music dealers and distributors. Suggested retail price: $9.95 Visit Slug Percussion at:
http://www.slugdrums.com
for more information."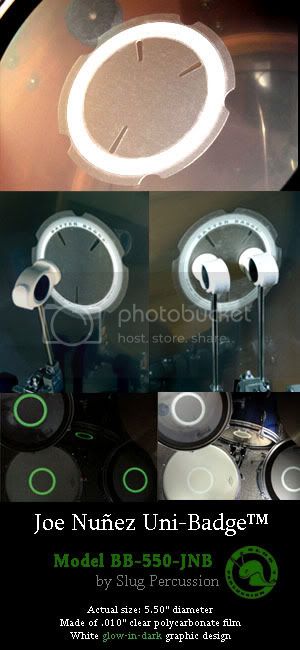 vamos, que para fans, estupendo, pero yo sigo con mi Evans, creo..